The BIRCHES NOW HAS Super non-ethanol fuel. Every day. We have 8 to 14 inches of snow on all trails. We could certainly use more snow but progress is good so far.
Tuesday January 19 , 2021 ITS 88 was groomed and signed from Rockwood to Jackman and to the Greenville system yesterday. Cold weather will help keep trails in good shape.
Reserve your accommodations for the spring, summer season.Thanks for visiting this past winter.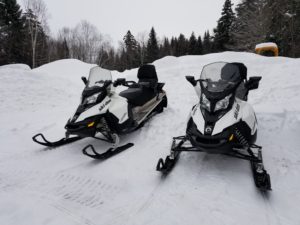 Check out our live webcam 
https://www.birches.com/webcam
Check our Facebook Page for daily updates/
Please do not drive vehicles on the groomed trails. It is illegal and very dangerous.
See our webcam.  Do not go on frozen lakes that are not marked unless you are familiar with that area.
Rockwood has 5 trail groomers, 3 of which are operated by The Birches Resort to ensure the trails in our area are always at their very best. Our Cabins & Homes are always open along with super unleaded gas available at our lodge. Come warm up and enjoy great food & drinks by the fire. See you soon!