Here at the Birches, we are at the center of what people all over the country call a winter paradise. Be it a snowmobile or a full ski package, we have got you covered. Enjoy yourselves!
Snowmobiles 295 per day.for guests and 320 per day for non guests Full days only.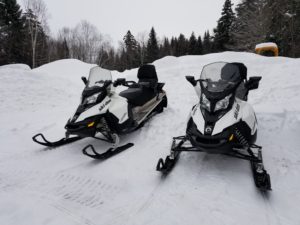 Please note: We cannot rent snowmobiles to anyone under the age of 21.  A damage deposit is required for all motorized rental equipment. Rental fee due in full at time of reservation.
Full day ski rentals available as are snowshoes
Call 207-534-7305 for info and reservations. Or 207-534-7588