Call for reservations and additional information. 207-534-7588. Pontoon boats starting at $265, Speedboats starting at $275. Jet skis starting at $270. Small motor boats starting at $70.
Rent a Boat in Maine for Every Activity & Occasion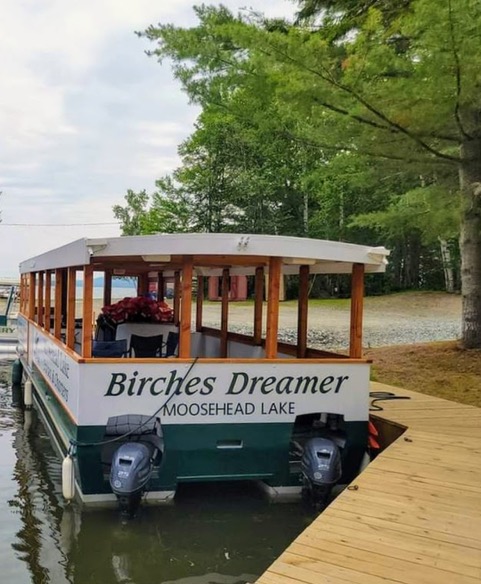 What better way to enjoy Maine's largest lake than by exploring Moosehead in a boat or enjoying a scenic tour from a small charter boat guided by our knowledgeable staff. With over a hundred square miles of deep, cool mountain water, boating really is the key to the heart–and antlers–of Moosehead Lake.
The Birches Resort is always adding to our extensive fleet of Maine boat rentals so that we can offer you and your family a wide range of options. We have our own Marina with wonderful staff who are always happy to provide suggestions for activities and sights or guide you on the lake. Whether you're looking to relax and enjoy a Maine boat cruise or want to drift on a tranquil kayak ride, we have a boat rental for you.
"Our group enjoyed a few excursions! Some woke early to go fishing. . . We rented a big pontoon boat, and toured the lake and shores around Mount Kineo. Andy, our Captain, motored us to a beach area for lunch & swimming!" – Clayton & Cindy Putnam
Our boat rentals are most popular in the summertime, when the lake sparkles with sunshine and life on Moosehead is in full swing. For nature lovers and adventurers, our Maine boat rentals start in early spring for fishing and quiet outings, and extend into the fall when you can enjoy the gorgeous changing of the leaves.
Take a look at some of the Maine boat rentals below and never be afraid to get in touch with us if you have questions or need help choosing the best option for your Moosehead boating adventure.
Pontoon Rentals for Families & Groups
Pontoon boats are a great way to get out on Moosehead with families and small groups. We have a range of pontoon rentals available with comfy seating, covered tops, and up to 115 horsepower. Cruise through the deep lake and if you're feeling bold, we dare you to take a dip in the cold mountain waters of Moosehead. With space to walk around and safety railings, pontoon rentals are a great kid-friendly option. Choose from a range of sizes to meet the needs of your group.
Score a Big Catch with Fishing Boat Rentals
People come from all over for a chance to partake in Moosehead Lake fishing and fishing boat rentals are the best way to get a stupendous spot to cast your line. With a depth of up to 246 ft, the lake is filled with desirable catches like landlocked salmon, brook trout, togue, and smallmouth bass. Spring tends to be a season of stories and legendary catches that draw lake fishermen to Moosehead each year. Great fishing continues throughout the summer season with plenty of family-friendly opportunities and good shallow water areas to learn the skill.
Fishing on the big lake has been a tradition at the Birches for generations, so we're proud to offer a stellar fleet of fishing boat rentals to our guests and visitors. You might even try your hand at night fishing to catch the elusive cusk. And if you catch something superb, our kitchen staff will offer to prepare it for your dinner!
If you plan to go fishing during your stay with us, please obtain a fishing license before arriving at The Birches Resort. Licenses can be obtained at Moosehead Bait and Tackle in Rockwood. Call us for more information about licenses, boat rentals and guides.
Try Out Paddlesports on Moosehead Lake
Kayaks, canoes, and paddleboards, oh my! For a little exercise and a peaceful experience of Moosehead lake, we offer plenty of options for non-motorized boat rentals. Maine kayak rentals and canoe rentals are one of the most popular options. We even offer tandem kayaks for a little teamwork challenge. Paddlesports allow you to take in the scenery at a slower pace and keep close to shore where there's lots of wildlife to be spotted.
On days with steady wind, try taking out one of our adorable sunfish sailboats alone or with a friend for a zippy ride around the lake. Paddleboards have also grown popular over the years and double as a great way to lay and enjoy a sunny break in the clouds. Outfit your whole family with an array of kayaks, canoes and boards and we'll be sure to point you in the direction of our favorite paddling spots.



















Celebrate With a Maine Boat Cruise
We're not exaggerating when we say you'll never run out of things to see at Moosehead Lake. From the 800 ft cliffs of nearby Mount Kineo to the mama moose and their calves who frequent the shores and streams for a snack in the summer. We're so proud to offer small charter boats and party boat rentals so that you and your group can truly bask in the beauty of this setting.
Whether you're looking to have an intimate wedding celebration, host a small party, or just want to enjoy a sunset charter, we have a Maine boat cruise for your occasion. The Birches Dreamer can hold up to 29 people and has a built in sound system to enhance your scenic ride. You can get in touch with us (click to call link) anytime to discuss your perfect private Maine boat cruise and reserve our small charter boat for your celebration.
Stay With Us & Save on Maine Boat Rentals
At The Birches, we welcome day-trippers, local lake-lovers, campers, fishermen, and long-term guests with open arms. Our fleet of Maine boat rentals is available no matter if you are staying in one of our rustic Moosehead Cabins or not. If you choose to lodge with us, you do receive the benefit of lower rates on all our boat rentals. You can check out our full 2022 equipment rentals pricing sheet for more information on rates and savings.
Make a Maine Boat Rental Reservation Now
Even though our fleet has grown over the years, we always recommend making an equipment rental reservation in advance. This ensures you get the boat of your choice and helps us be prepared to give you the best experience possible. Call us to discuss options and make your Maine boat rental reservation anytime. Of course, we do love a splash of spontaneity and will often have boats to rent day-of but cannot promise that particular vessels will be available. All boat rentals require payment before you take them out on the water.
We hope to see you at Moosehead soon!