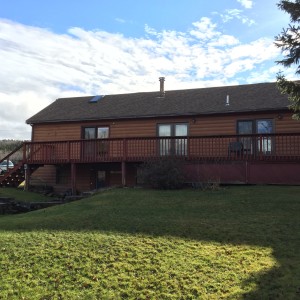 A short drive from The Birches Resort's main lodge, our Riverview Lodge has three well-appointed suites, each with views of the Moose River. Suites are fully furnished, with kitchens, dining areas and living rooms, private bedrooms and bathrooms. The Riverview Lodge has a manicured backyard, a hot tub, and a private dock with water access in the summer and easy access to snowmobile and ski trails in the winter. Rent a suite, or the three units for larger groups.
Bed + Breakfast Package Add $11.00 per person per night for a full breakfast at The Birches Resort Restaurant.
Kingfisher Unit – 2 bedrooms, 2 bathrooms
Eagle Unit – 2 bedrooms, 1 bathroom
Osprey Unit – 1 bedroom, 1 bathroom
Call 800-825-9453 for more information.
Riverview Suites Gallery