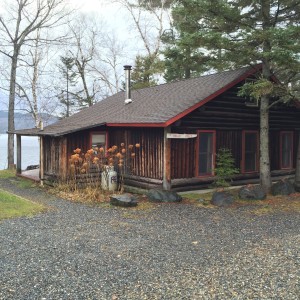 Our Kozy Kabins are little log cabins nestled in the woods. They have bunk beds, chairs and electric
lights and each one has a deck and its own fire pit for campfires and outdoor cooking. Built for warm weather camping, these darling little cabins are perfectly situated on Moosehead Lake.  Bring sleeping bags, gear, a flashlight and grill for the fire pit for outdoor cooking. Each cabin accommodates up to six campers.
For convenience our shower house, restrooms, hot tub and sauna are nearby.